Blog Index
5 Steps To Launching A Profitable eCommerce Store With BigCommerce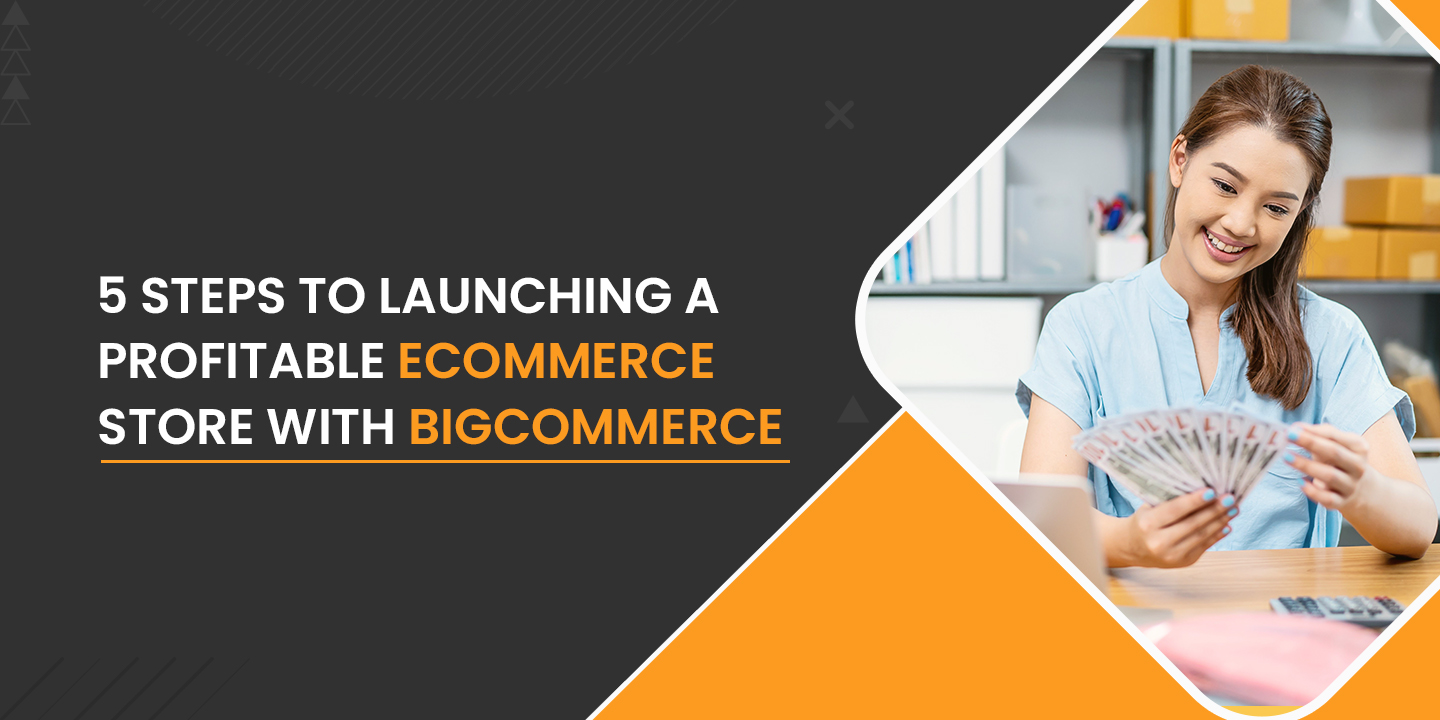 Do you find yourself browsing through online marketplaces like Etsy, eBay, and Amazon and thinking to yourself; "I could totally do this!"? If you're eager to start your own ecommerce business, we understand how daunting it may seem to write a proper business plan.
Fortunately, with BigCommerce shopping cart development services, you can launch your own online store without breaking a sweat; This easy-to-use platform offers an impressive array of features, and the best part? You can sign up for free!
E-commerce is expected to generate $476 billion in sales in the United States by 2024, with 43% of all shoppers using the Internet and social networks to research products before purchasing.
Regardless of education level or work history, anyone can launch, establish, and grow a successful online venture today. 
We're here to help guide you through the process. With our step-by-step primer, we'll show you exactly how to write an effective business plan for your ecommerce store and how to create your online business with Bigcommerce development services.
Why Choose BigCommerce
BigCommerce offers the simplest onboarding procedure.
Compared to other platforms, BigCommerce's onboarding procedure is the simplest. 
Launching any eCommerce website is now simpler than ever, thanks to the setup process's simplicity, ease of use, and speed. 
With BigCommerce design services from dedicated and professional experts, creating an eCommerce store is simple and does not require technical expertise. 
One can build a conventional and fully working eCommerce website using the platform's capabilities and resources. 
The Help Centre also has many written and video tips and articles to assist newcomers with the setup procedure.
Professional-level management of your clients, orders, and products
BigCommerce offers the most user-friendly dashboard for managing products, orders, and returns and a simple interface.
It offers advanced filtering options for brands, categories, reviews, pricing, etc., to your customers. 
You can quickly access as well as manage your products on the fly thanks to features like the "Quick Search Bar."
With the BigCommerce platform, managing large numbers of customers is simple as pie. 
Based on price, promotions, and product access, the customer-centric platform enables you to divide your clients into various customer groups and curate store content specifically for each group.
Track the Purchasing Decisions
Like navigating in the dark without a torch, running a business without understanding what your consumers think is impossible. BigCommerce offers means to continuously monitor and follow the purchasing patterns of your target audience, acting as your candle in the night.
As a result, you can modify your goods and services to satisfy their changing needs. With BigCommerce, you can also ask for user feedback and enhance the features of your website or company that will eventually satisfy your clients' needs.
24/7 Bigcommerce Support
One of the friendliest customer support teams is available on the BigCommerce platform, and they will do anything in their power to make things happen for you.
Prompt assistance is more important than the enticing features when you require urgent assistance. 
The following are some benefits of BigCommerce's customer support:
Shorter wait times

Dedicated expert support

Express routing for enterprise customers

24/7 access to the support team
BigCommerce provides coaching, training, and instructional help for businesses of all sizes in addition to these support features.
Steps to Launching a Profitable eCommerce Store with BigCommerce
Step1: The Right Plan for Your Business – BigCommerce Essentials vs Enterprise
As a business owner, you know the importance of selecting the right pricing plan to meet your unique needs. BigCommerce understands this, too, and offers two different plans: 
BigCommerce Enterprise
This plan is ideal for large businesses growing fast and needing advanced and scalable features. The best part is that Enterprise offers specialized support so that businesses can achieve their full potential.
One of the best parts of an Enterprise is its capacity to handle high volumes of traffic and transactions easily. So whether you're experiencing rapid growth or planning for the future, Enterprise can handle it.
Since every business is different, pricing is determined based on specific needs. But don't worry; you can request a demo and a quote to ensure you get the right price. Depending on factors like business size, specific features, and unique requirements, monthly plans can range anywhere from $400 to $20,000.
BigCommerce Essentials
Small to midsize businesses who need a straightforward yet capable eCommerce solution should consider BigCommerce Essentials.
BigCommerce Essentials allows people with less technical expertise to use it because of its user-friendly interface and streamlined setup procedure.

It provides basic marketing tools, responsive themes, and key eCommerce capabilities like product management.

BigCommerce Essentials offers affordable price packages designed for smaller enterprises on a tighter budget.

Essentials users still need to receive dedicated account management or priority help, but they have access to community forums and basic support.
BigCommerce Essentials is available for as little as $29, and you can try it out for 15 days before buying.
Step2: Design & Improve Your Site Content
By choosing a good BigCommerce theme in setting up a BigCommerce store, you'll start to improve the appearance and usability of your online shop. 
If you are confused about designing parts and find it difficult to choose from a wide variety of options, it is best to consult BigCommerce web designers as they will assist you and help you finalize the best theme.
Personalize Your Website
When you've selected your perfect theme, BigCommerce store design intuitive tools make customizing a breeze. Navigate to "Storefront" on your dashboard and select "My Themes" to access the Page Builder. Here, you can tailor your website's appearance to your preferences. Adjust the color scheme, font size, homepage product display, and more without breaking a sweat.
Tailor Theme Styles
Revamp your website's appearance by clicking the color palette icon below the Widgets and Layers section. Use this feature to adjust key features such as fonts, headers, footers, navigation menus, and logos. Impress your customers with an alluring and consistent brand identity using this comprehensive style editing tool.
Add Content Pages
Head to "Storefront" and select "Website" to open up the View Sites page, where you can create and manage web pages. Hit the "Create Website" button and get crafting! Generate informative content to showcase your brand, such as an About Us page or a Frequently Asked Questions (FAQ) section. Thanks to BigCommerce's flexible framework, creating and managing content for your website has always been challenging.
Interact with Your Visitors
Want to engage with your visitors more effectively? Enable the option to allow visitors to submit questions or comments via the Contact Form during the website's creation process. After that, provide relevant information and messages in the Page Body section, and watch the conversation start flowing!
Step 3: Add Products
In the control panel, create products.

Products can be added via bulk CSV processing.

Make API calls for creating products.

Product migration from a different BigCommerce shop or another platform
Control Panel
Adding products to your BigCommerce store is made simple by creating them in the control panel. Enter all the product attributes on the Add Product page by going to Products > Add.
import CSV
The best way to add numerous products simultaneously is by importing them using a CSV spreadsheet. You can create and modify goods in bulk in this manner. 
Via API requests
This advanced approach to swiftly adding products to your catalog requires familiarity with the BigCommerce store development APIs. You can add data to all product fields and establish categories with various properties, among other things, by creating products via API queries.
From a different store
You don't need to start from scratch when you already have an eCommerce business, another BigCommerce website, or another platform. Your products can be moved using a CSV import, API calls, or apps available from the BigCommerce App Marketplace. 
Step 4: Launch your BigCommerce Store
You ultimately launch your online store by yourself or by taking help from BigCommerce agency India onces after creating your products, including payment options, configuring the delivery options, and adding payment methods. The sales tax must be established, your store profile must be created, and you must preview your store as the last stages.
Go to Store Setup > Store Profile from the dashboard. Briefly describe your store, including its name, country, email address, and phone number. This data will be displayed in your BigCommerce store's footer.
Step 5: Do Marketing and SEO to Generate Leads
To draw in new clients and keep old ones, marketing is crucial. Due to the extreme competition in the eCommerce industry, you must engage in a thorough marketing plan that presents your brand to your target market.
Social networking is one of the best strategies to advertise your shop. Massive user bases of platforms like Facebook, WhatsApp, and Instagram make them ideal places to market your items. Create social media accounts for your business, interact with your followers, and share frequent updates about your items. You may also use targeted advertising to find your perfect clients.
Search engine optimization (SEO) is essential to increase traffic to your eCommerce site. Search engine optimization makes it more straightforward for potential clients to find your business by boosting its ranking in search engine results. Start by adding relevant keywords to your website's content, meta descriptions, and product descriptions.
Conclusion
An ecommerce platform offers much more than a mere product sales outlet. It serves as an online portal where businesses can curate an immersive shopping experience that establishes their brand, entices potential customers, and ultimately cultivates a following of loyal patrons. 
However, BigCommerce is not just like other drag and drop platforms, it requires knowledge, experience and understanding. Thus, if you are new and do not possess any special knowledge, it is advised to seek expert help and hire BigCommerce development company that will allow you to achieve your goals through BigCommerce Development.
Make wise choices and master the art of online store with BigCommerce web developers!