Blog Index
Troubleshooting 8 Common Shopify Problems And Their Solutions: A Guide For Developers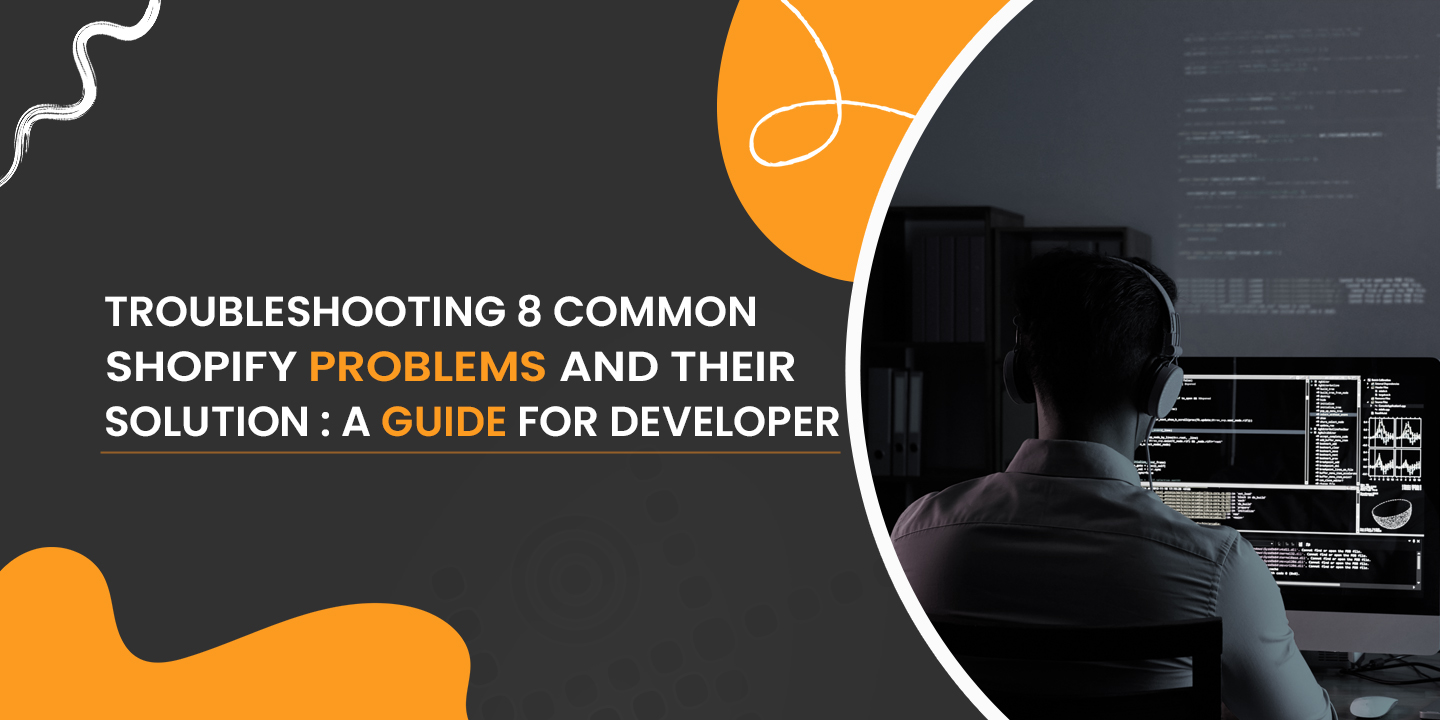 Over 1.700.000 businesses are utilizing Shopify, making it one of the most popular eCommerce platforms. They make it much simpler to set up online stores, market products, and complete customer orders. 
Because of the COVID-19 pandemic, an all-time high number of people have started shopping online. People from all walks of life, including savvy business owners, recognized the opportunity presented here and jumped on board. In the year 2020, revenue from online commerce increased by 27.6%, reaching approximately $4.28 trillion on a global scale. By the end of 2023, online shopping is anticipated to account for more than $6.5 trillion in total revenue. 
Nevertheless, a fruitful online store results from a significant amount of labour put into it. The issues that a lot of first-time users have will be addressed in this article because there are many of them. 
Let's see the troubles you might face when setting and managing Shopify custom design. We also have listed their ultimate solutions to help you troubleshoot the issues.
What's the Hype for Shopify?
Shopify, the most well-known hosted eCommerce solution on the market, was founded in 2004 and provides everything you'll need or want for your online store. This safe eCommerce software is a complete solution for your eCommerce website, enabling you to sell in various regions with support for local languages and different online stores, as well as quickly create new pages with an integrated online editor. 
The need for Shopify design experts has emerged, making it a good career option for many reasons.
Here are the #TOP 3 features it offers:
Easy to use
Shopify looks and feels like other hosted platforms. Shopify businesses can be set up in minutes thanks to the simple interface and management panel. Simply enter your email address, password, store name, and other settings to set up your store.
Customize your store design:
Customising Shopify is easy. Using Shopify, you can personalize several aspects of your online store as well as the overall shopping experience by adding custom codes and doing other things. This allows you to produce your very own unique creative space. Shopify also has a massive number of add-ons and built-in features.
Support powerful sales tools:
Shopify has many eCommerce tools and sales capabilities and many selling options. Shopify possesses several functional components necessary for an online business's operation. 
These components include Shopify inventory management, the Shopify app store, Shopify reporting and analytics and multi-channel, dropshipping, payment and shipping, and several tools for follow-up.
Tesla, Nestle, PepsiCo, Red Bull, Netflix, BCC, and The Economist use Shopify.
Being one of the market's most popular and preferred choices, Shopify still lacks to offer its 100% for many reasons. Shopify experts in India still need help setting up their stores with Shopify, and some of the most common issues are discussed below, along with their solutions. So, let's study them in detail:
8 Common Shopify Problems and Their Solutions
Improving Site Performance
The performance of your website directly affects how quickly customers and target audiences can access your online store. Since a slow website can cost us customers, as online retailers we strive for the quickest loading times. A slow user experience has a negative effect on conversion rates and overall sales revenue, so it is crucial to take quick action to fix it.
You must make sure that your content is web- and search-engine optimized. For instance, Google rewards websites with faster page loads with higher rankings. the improved SEO ranking's effects on increased website traffic, conversion rates, and overall sales.
Solution
Start by finding and fixing bugs that are causing loading lag in order to improve site performance. Disable windows that randomly pop up, and consider using a content delivery network. Enhance image uploading, and ensure a seamless mobile interface. Review redirects, minimize them, and simultaneously fix any broken links. These steps will greatly improve both the usability and customer satisfaction of your online store.
Problems With Product Listing
Online store owners face the issue of product listing and catalogue updating a lot as they need to update the list of products on stock, add new products and manage each category. This can consume a lot of time and effort if done manually. 
Solution
Shopify owners can import multiple products at once using the CSV format spreadsheet without having to manually change their status. This will make the procedure more efficient. However, you should proceed with caution as things like a slow internet connection or a lot of data can prevent imports from working. In the event that you need to restart the process later, always create data backups. 
Alternatively, to enable a more seamless transition, the data can be divided into a number of smaller spreadsheets and uploaded in manageable batches.
Duplicate Content
For Shopify sellers, dealing with duplicate content is frustrating regarding Shopify development services. When this occurs—for example, when products are included in a collection or bundle—the end result is that multiple URLs will point to the same page. This is because each product will have its own unique set of tags. This may affect how search engines index the pages on your website.
Solution
It involves the utilization of canonical tags. You can inform search engines that the product page serves as the master copy by utilizing self-referencing canonical tags; this enables you to notify the search engines that other duplicates of the page should be optimized and linked back to it. 
To implement this, edit the code for your Shopify theme and insert the code provided directly above the closing /head> tag. By doing so, you can improve the efficiency of the search engine process and make it run more smoothly.
Finding Customers
Finding customers for their products is likely a problem for beginners using Shopify for the first time. It is always tricky for new Shopify users to drive traffic to each of their entities. 
Make sure you know the benefits and drawbacks compared to other ecommerce platforms to develop an effective marketing plan to draw in clients.
Solution
Trying out the appropriate advertising and promotion for your business is one way to get around this. Additionally, never pass up the opportunity to join a reputable marketplace that pulls statistics. Utilize their customer base to grow your Shopify business. Finally, optimize your store for better engagement, which will help you attract more customers to your company.
Management Of Content Across Channels
Besides your Shopify store, you may need to manage content on other channels as well. This is because it can be very difficult to keep track of conversations happening across different platforms while using the multi-channel approach and having more than one tab open at a time.
Solution
The implementation of an omnichannel solution in order to facilitate the simplification of this process is something that might be of assistance. In contrast to the multi-channel approach, the omnichannel strategy consolidates all of the various channels of communication that you use into a single cohesive environment. 
Because of the increased concentration and the streamlined operations, you will be able to effectively manage all of your marketplaces by utilizing this method. It provides a management system that is more integrated and well-organized, which alleviates the stress that comes with constantly switching between tabs.
ERP Integration
Shopify's integration with ERP software is a game-changer for retailers who deal with a high volume of data or complex back-office tasks. An increased order volume, delayed financial reporting, managing multiple suppliers, low employee productivity due to manual tasks, shipping issues, and multiple B2B customer relationships point to the necessity of this integration.
Solution
Selecting the appropriate ERP system will allow you to circumvent Shopify's restrictions and eliminate the need for manual data transfers. For the evaluation to be accurate, there must be seamless exchange and communication of data. 
Cloud-based enterprise resource planning (ERP) systems with open application programming interfaces make for simple integration, broad accessibility, and significant cost savings. The IT infrastructure, initial investment, and pay-per-use pricing are three areas in which Shopify merchants can realize cost savings.
Getting Products on Store
Facing issues while adding products to your Shopify store can be a big problem. It can be difficult & time-consuming to pinpoint the exact cause of the problem because it may originate from product listings or other marketplaces.
While CSV files can be used for product imports, extreme caution must be used because even a single mistake can fail. If an import fails, small product uploads can be handled manually, buy bulk transfers involving hundreds or thousands of products can be complex.
Solution
Effective inventory management is the ultimate solution. When managing multiple marketplaces, sellers must implement real-time inventory status. Accurate data lowers risks, improves business processes, and ensures long-term success regardless of how you look at it. Selling on Shopify can be a more straightforward and satisfying experience with the right tools and tactics in place.
A High Volume Of Data And Orders
Your online store's high order volume is exciting. It indicates customer satisfaction. However, managing orders and data can be overwhelming. Financial reporting delays may occur with a premium Shopify plan.
Solution
An ERP system may help solve these issues. Integrating this system with your Shopify store improves order and data management. To avoid integration issues, many cloud-based ERPs have well-documented APIs. Cloud-based ERPs are affordable for all businesses, including startups like yours.
Wrapping Up Things
Shopify has helped over a million eCommerce startups. Shopify, like everything else, has issues that must be resolved before you can launch your online store.
We can help with any remaining issues or questions. We've already covered some of the most common issues. 
DIT, a trusted Shopify Development Agency, is available 24/7 to solve problems and map out success. Our team has mastered Shopify offerings and troubleshooting due to years of experience. We can help with Shopify design services. 
Why wait? Connect today!