Blog Index
Selling on Marketplaces vs. Building Your Indian E-Commerce Website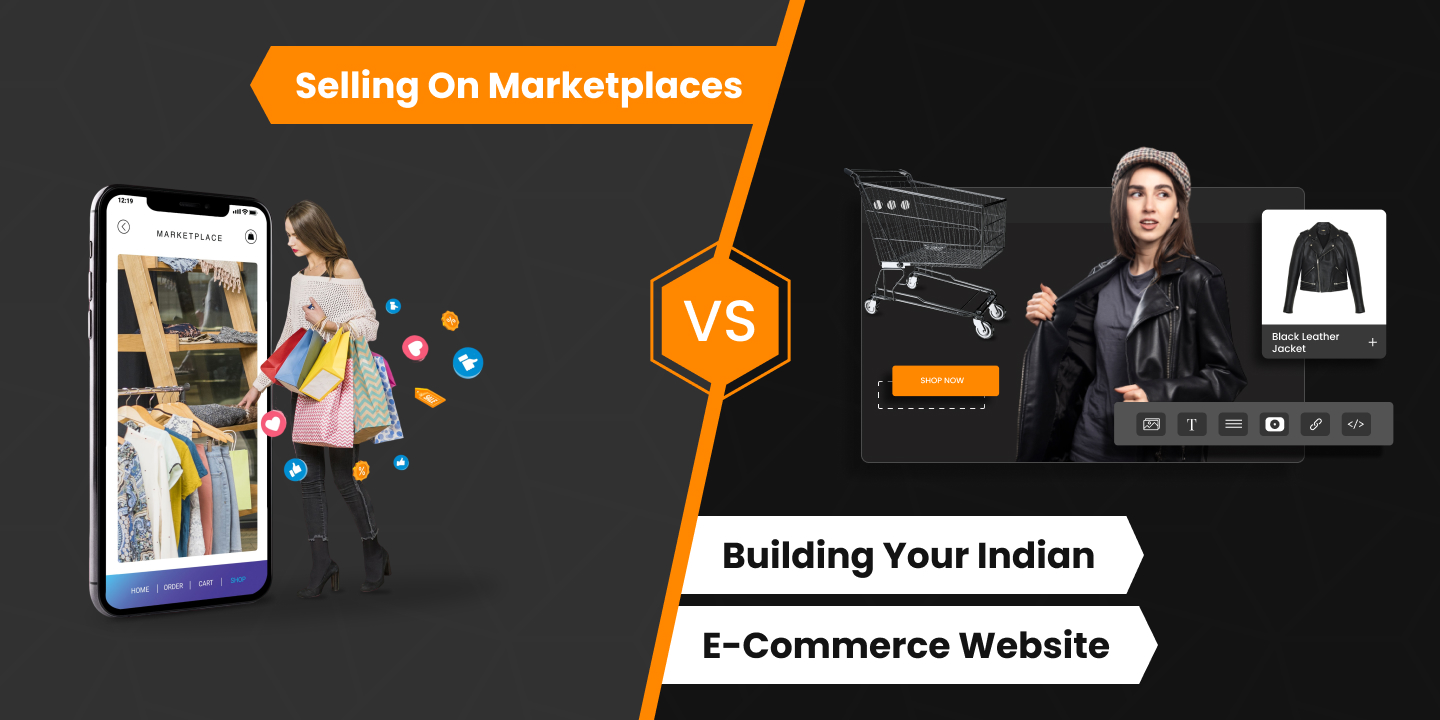 As per projections, e-commerce revenue in India is anticipated to reach $62.3 billion by 2023. We stand on the brink of an e-commerce revolution poised to revolutionize how business proprietors and entrepreneurs promote and distribute their products. Observing how swiftly the world has transformed is fascinating, making nearly everything accessible online today.
Embarking on online sales in India is simpler than one might envision. There exists an array of platforms enabling the initiation of your online venture. However, the question arises: should you choose a marketplace or establish your own website from an eCommerce design company in India?
Irrespective of whether you're a novice or a seasoned online seller, this guide will furnish you with a comprehensive understanding of the avenues available for selling your products on the internet. Even without experience operating a physical store, you can commence online product sales for a profitable outcome.
There are 2 ways to sell online.
Sell Online on Marketplaces

Sell on your website.
Selling Via Marketplace Or Own Ecommerce Store?
Although it's excellent to sell in a small area of marketplaces like Amazon, Flipkart, Big Bazaar, or Pantaloons on one of the marketplaces, your brand will get little attention. Considering that most shoppers at the department store are not specifically looking for you.
Additionally, customers are more likely to recall that department store's brand than yours, and of course, you are dependent on its policies.
On the other hand, running your own e-commerce website is more similar to running a stand-alone shop. You can create your own place, theme, and appearance based on your selling products. Developing a customer base is undoubtedly more difficult, but your brand and customer base are the only things that matter. Additionally, you come up with all the guidelines.
Both choices seem appealing. We've compared the characteristics of running your online eCommerce company in India and selling online via the marketplace to help you decide. In this manner, our comparisons will be accurate.
Customer base
Marketplace: The biggest USP of any marketplace is its ability to draw a sizable customer base. Clients approach you. You are cashing in on the trust that online shopping websites like Amazon, Flipkart, or eBay have built up. You are not required to run marketing initiatives or use social media frequently. You need to set up your seller account and wait for sales (and reviews) to start flowing in.  
Own an online store: You must work harder to draw customers to your online store. Your responsibilities suddenly include storytelling, branding, branding campaigns, Instagram presence, and SEO. However, the benefits are also greater.
Competition
Marketplace: In a marketplace, customers are frequently presented with temptations in the form of the goods of their rivals. Whether the sale comes from your store or one of your rivals, they want a sale. While SEO may not be a concern for you, it will be important to think about how to outrank your rival for eyeballs by ranking higher in the search engine results.
Own an online store: You can compete fairly by having your own online store. You don't have to accept undercutting deals that make your rivals' products appear more affordable. There isn't any opposition. People frequent your shop because they like it and aren't lured away by other goods once they're there. And also an eCommerce web development company will also help you in website SEO for your website ranking.
Design flexibility
Marketplace: Since these have design limitations, listing your stuff there is simple. Although you can add pictures and descriptions, the main design follows the marketplace's standardization strategy. Your company ends up being an afterthought.
Own ecommerce site: Creating your own website using a platform and a reputed eCommerce development company in India allows you a lot of design flexibility for the look and feel of the site. Your store and your merchandise are both yours. You can select from various layouts on most online store platforms. This is your greatest option if you're trying to stand out in a crowded area.
Marketplace Vs. Own Ecommerce Store
Online marketplaces in India, like Amazon and Flipkart, are at the top of the list as global eCommerce sales increase. You can post your products on these marketplaces and directly engage with clients. Every marketplace has a different target market and pricing scheme. You must compare its features to pick the marketplace that fits your store and brand the best.
1. Selling on Amazon
Amazon, which began in 1994, is now the most successful online retailer in the world. More than quadrupling from 2014's $88.99 billion to 2021's $469.81 billion, Amazon's net revenues are expected to continue their meteoric rise.
Amazon Prime members can access perks like free two-day shipping, video, music streaming, and more when they sign up. Most of its shoppers find it to be the best option available.
Amazon Selling Benefits
1. Reach
Because Amazon has a sizable user base and a presence in many countries, you will have a sizable audience to serve with your products.
2. Visibility
Due to the fact that many consumers browse products before making a purchase, Amazon gives product listings a lot of attention. One of the key elements of selling on Amazon is product listing.
3. Data
You may use the plethora of data Amazon offers about your customer base to increase sales and make better marketing decisions. You can use the wealth of customer data that Amazon provides to boost sales and choose more effective marketing strategies.
4. Returns & Delivery
The seller receives FBA (Fulfillment by Amazon) service from Amazon. In other words, Amazon will handle both your product shipping and customer service. Additionally, Amazon will handle the logistics for goods returns.
5. Branding
Using the popularity of the website among users to draw in new customers, you may use Amazon's platform to develop your brand.
2. Selling on Flipkart
Flipkart Private Limited recorded income for the fiscal year 2021 of over 433 billion Indian rupees, according to a poll. Additionally, the e-commerce player saw a 25% growth in revenue from the prior year.
Flipkart, a niche player than Amazon and supports fewer vendors, is a fantastic place to conduct online business.
Flipkart Selling Benefits
1. Market Segmentation
Because Flipkart targets a particular demographic, it's easier to draw in and keep the kind of customers you desire.
2. Visibility
Offering exceptional products will boost your brand's exposure on Flipkart because the marketplace values thorough product descriptions.
3. Data
The data from Flipkart can help you make more informed marketing and sales decisions.
4. Sales
Many customers from nearby nations and India shop at your store thanks to Flipkart's payment gateway.
5. Returns and Delivery
The shipping and return pickup will be covered by Flipkart. They also act as the customer service hub for your product.
6. Branding
By using Flipkart's current customer base, you may raise brand exposure and foot traffic.
Creating Your Own Website
A poll revealed that 52% of the sellers only sold through their own website, 42% sold through an e-marketplace in addition to their website, and only 6% said they exclusively sold their products on e-commerce websites.
2020 saw more than 50% of repeat purchases across all categories going to private labels, per a different survey. In the cosmetics sector, approximately 75% of repeat sales were observed. Repeat purchase trends were similarly higher in the other categories—grocery, wellness, furniture, etc.
The benefits of selling your products on your own eCommerce development company in India are as follows:
The platform is yours: Although you will be in charge, setting up and maintaining an e-commerce website is far more expensive than selling your products on a marketplace.
No commission: Even in your own e-commerce business, selling things online will incur transaction costs for each sale, but after that, the profit on the products is all yours. Typically, commissions are set up for third-party websites where you sell your products. These commissions may even be paid to the third party before making any sales.
Deductions from Earnings: In addition to sharing a portion of your profits with the e-commerce platform you utilize, you should anticipate incurring various expenses. These may encompass subscription fees, referral charges, and more.
Analytical Insights: Rather than solely relying on the data furnished by your e-commerce platform, you can employ your analytics tools. Google Analytics, for instance, can assist you in pinpointing your top-selling items and most frequently viewed products, monitoring buyer behavior, and so forth.
Conclusion
There is no either/or situation here. Both selling on marketplaces and your own websites have advantages. They work quite well together and can increase revenues when utilized jointly. However, knowing your objectives can assist you in selecting what to do first. Knowing where you want to spend your time and money is always crucial.
Do you have a long-term or short-term goal? The more sensible course of action is typically to use a marketplace if the goal is only short-term. However, owning a website is your only option if you want to ensure your future and increase your part of the revenues.
If you want to start your online website, 9eCommerce can help. 9eCommerce is an eCommerce design company in India who helps you to make your own ecommerce website that will increase your ROI.