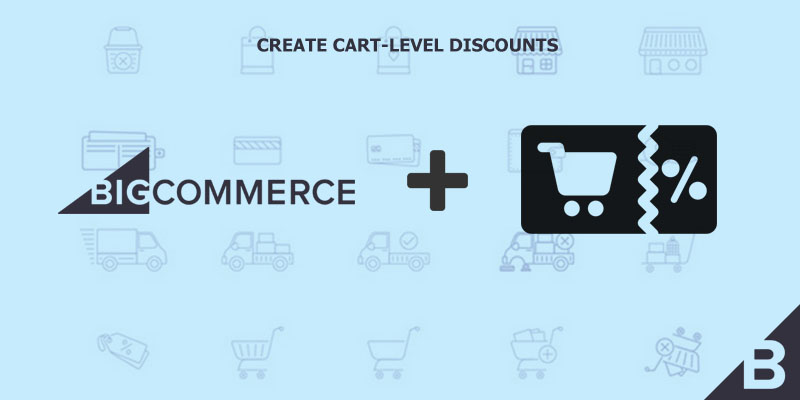 Here's How You Can Create Cart-Level Discounts in BigCommerce
Before we start talking about cart-level discounts in BigCommerce, let us give a quick introduction about our company. We are a BigCommerce Design & Development team, and offer a range of services for the platform. Our team has recently started offering BigCommerce Stencil development to make the most of this new theming platform with BigCommerce.
As about cart-level discounts, they are extremely important to help you get more sales. These discounts can be an integral part of your eCommerce marketing strategy. With BigCommerce, you have a lot of flexibility when it comes to creating cart-level discounts. They discounts can be automatically applied to a cart based on certain pre-decided criteria.
TYPES OF CART-LEVEL DISCOUNTS
There are various cart-level discounts that BigCommerce makes available. Here's a quick round-up of some of them.
Free Shipping Discount: In this case, you can offer free shipping to your customers on the basis of a minimum number of units or a minimum order value. Plus, you can restrict such free shipping offer to certain shipping zones only.
Product Discount:  This is another form of cart-level discount. When you buy one item, you get another similar item for free. On a similar note, you can get certain quantity of a product free when you purchase a certain minimum quantity of the selected product.  
Order Discounts:  Customers can be offered discounts on the basis of their order size (units) or order value.  You can set a minimum and when a customer's order hits that minimum, you can offer the discount.  Plus, there is also the possibility of having a tiered discount system.  Additionally, you also have the option of applying an amount or % discount on Item B, when you order a certain quantity (or $ value) of Item A.
Category Discounts: BigCommerce lets you apply % as well as amount discount in one or more categories.  At the same time, this discount could be applied on multiple products.  In other words, when a customer buys a certain number of units of a product in Category A, they get additional units of another product in the same category.
Customer Discounts: You can offer amount-based or % discount to repeat customers on the basis of certain criteria.  This could only apply to registered customers.
Brand Discounts:  Finally, it is also possible to apply amount or % discount to each item in different brands.  You can select all brands or just pick & choose a few.
CREATING A CART-LEVEL DISCOUNT
The first step is to click on create a discount rule.

The next step is to enter a name for the rule. This is for your own records. Your customers wouldn't be able to see this.

In the third step, you decide on the rule type including the category that will have the discount rule applied.

You then get to select the customers who will get the discount. You can pick & choose only those groups of customers that you want to offer the discount to.

Next up, you make a decision on the duration of the discount. You specific the start as well as end date for your discount.

Finally, you can also limit this discount to certain number of uses only. Once those numbers of uses are hit, your discount becomes unavailable.  
You are now ready to finish the discount creation process.
Please let us know how you liked this article. If you need help a BigCommerce Stencil developer, you can contact us.