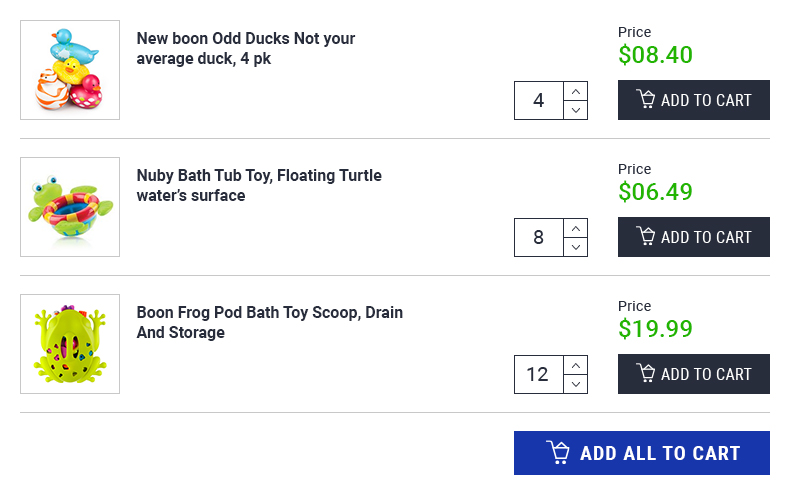 In an ecommerce storefront, B2C shoppers prefer to visit product pages while B2C buyers just avoid it, and looking for a way to make bulk purchases right from the categories page. The app is a savior to make B2B wholesale buying easy and quick by providing quantity input boxes to each product listed on the category page. Shoppers can add to cart multiple products/items within a single order and increase AOV.
Specifications
Applications:
The app targets wholesalers and B2B shoppers.
The app enables developers/merchants to add quantity input boxes to each product on the category page.
It enables shoppers to add multiple items in the shopping cart in bulks, even staying in the same category page.
Compatibility:
It is compatible with interval ordering such as cases and packs.
It works smoothly on all BigCommerce themes, including Stencil & Blueprint themes.
Installation:
We provide installation within one to three business days by expert developers only.
The app is mobile-friendly and with responsive design.
FEATURES AND BENEFITS
A PERFECT B2B ORDERING SOLUTION ON CATEGORY PAGES
The app enables B2B shopping even on B2C storefront without creating a special page or module for B2B buyers. A wholesale merchant can place bulk orders for multiple items without leaving the category page and visiting individual product pages to place multiple orders in the shopping cart.
APP BOOSTS SPEED IN THE CHECKOUT PROCESS
When a shopper place an order in the cart right from the category pages, the visits of each product page cuts automatically from the conversion funnel and checkout process become short and consuming significantly less time. It also enhances the shopping experience and speeds up time-to-checkout.
AN EXCELLENT SOLUTION FOR INTERVAL BUYING
If you are selling products in boxes, cases, or packs, the items in the container must have a fixed quantity. Ordering the packs facilitates interval purchase, but it demands another add-on (Case Pack Solution) to support interval purchase in set quantities. Our present app is compatible with such other extensions.