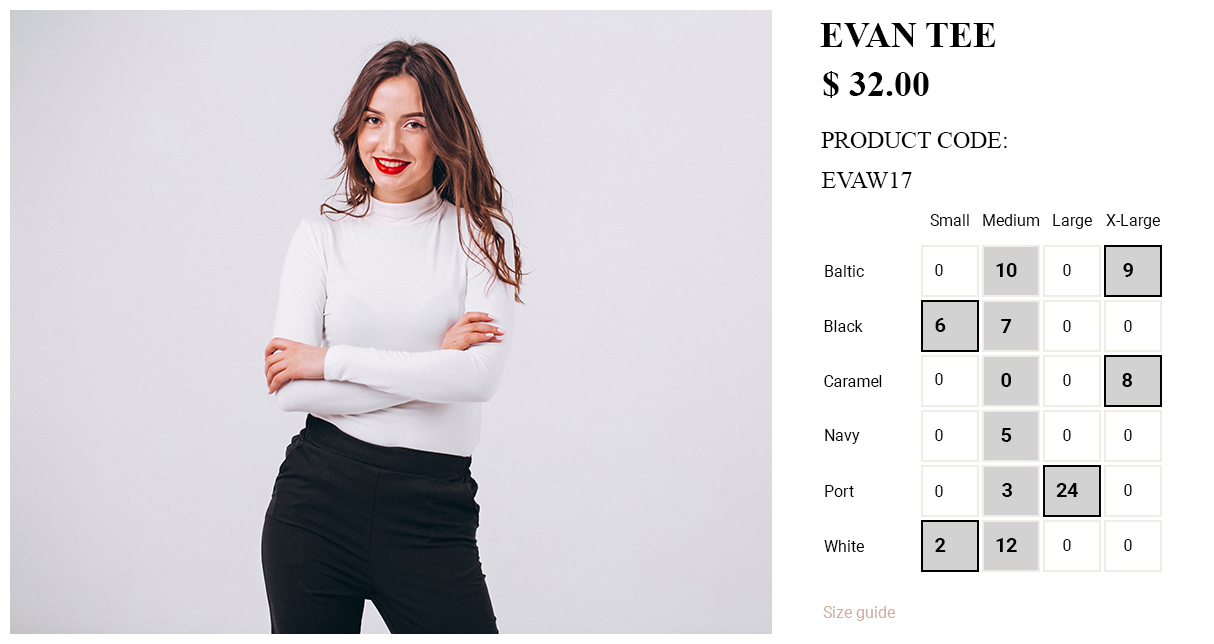 Most of fashion & apparel products have multiple attributes, which are playing significant roles in making buying decisions, particularly, in the case of bulk or wholesale purchases. For instance, a cloth item has variations in size (S, M, L, & XL) and colors (Black, Caramel, Navy, & White).
To ease the life of wholesale or B2B buyers, the display of products in a grid or tabulated format with multiple attributes prove a logical solution. Thus, in our example, we can allocate rows of the table to color and columns to size attributes of the product.
It enables shoppers to place orders by simply entering the numbers/quantities of pieces/packs in the table for a particular size and color. Thus, customers can add multiple variations of a product in different quantities, as well as purchase the multiple products at once using the product option grid feature in your BigCommerce storefront.
It speeds ups the bulk buying without confusions or complexities and with the desired accuracy.
Specifications
Applications:
The app targets the B2B or wholesale buyers
The app allows merchants to sell the products with multiple attributes available for the selection.
The app enables shoppers to buy multiple products in different variants of attributes and quantities of orders.
Specifications:
The app lets customers add multiple products with various attributes in the cart at once without repetitions of the process.
The app offers consolidation of product listings and reduces the burdens over the databases.
The app displays its modules on product pages in most cases but allows you to place elsewhere on your BigCommerce storefront.
Compatibility:
It is compatible with other existing product options and extensions.
It works smoothly on all BigCommerce themes, including Stencil & Blueprint themes.
Installation:
We provide installation within one to three business days by expert developers only.
The app is mobile-friendly and fully responsive in design.
FEATURES AND BENEFITS
ALLOWS ADDITION OF MULTIPLE PRODUCTS AT ONCE
Thanks to grid display, the application allows customers to add multiple products with variations in attributes in the cart at a time. Shoppers can place a single order for multiple items at once. Shoppers can buy items in bulk even with a few clicks only.
CONSOLIDATES PRODUCT LISTING
A product when displays in variations in product attribute in a grid format, it cut the burden over the product database. It also facilitates BigCommerce merchants to simplify the product listing even with placing options in the desired & logical ways.
THE BEST FOR WHOLESALE OR B2B BULK ORDERS.
Bulk buyers or wholesale customers always try to avoid repetitive processes during buying. The app enables a display of the product options in a grid or table format. It eventually, enables consumers to accomplish buying task rapidly, and it also with desired accuracy and availability of options in a single order.