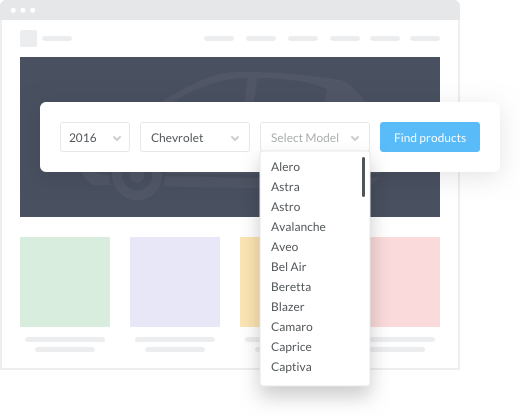 LAYERED NAVIGATION WITH MAKE-MODEL-YEAR APP IN BIGCOMMERCE
Layered navigation is great for large ecommerce sites. It facilitates filtered search by using various product attributes. The app enables you to place a search module on categories and search pages in your store, giving added advantages to cut the path of product finding.
Who can get benefits from attributes-based search app? It is mechanical, electronic, electric, automobiles, and computer part selling BigCommerce websites can enhance UX by offering different product attribute-based search. Besides these, fashion & apparel web portals and hospitality industry can reap the benefits of layered navigation.
Specifications
Applications:
The app allows search using three to six or more dropdown filters based on the parameters/product attributes commonly applicable in the niche/industry.
The app lets the placement of modules on any page, including category, brand, and search pages using shortcode.
The app supports the import of your spreadsheets created to define the navigation & category structure.
Specifications:
The app lets merchants change the order of the dropdown filter.
You also can change labels and values in the dropdown filters.
The app permits export/imports of product SKUs and other data for attributes in CSV file format.
Compatibility:
The app can work with default BigCommerce search product result page, and customized products result in pages.
It works smoothly on all BigCommerce themes, including Stencil & Blueprint themes.
Installation:
We provide installation within one to three business days by expert developers only.
The app is mobile-friendly and fully responsive in design.
FEATURES AND BENEFITS
PART/PRODUCT LOCATOR
Based on a specific part or product attributes, the app allows searchers to locate product pages quickly, and without traversing a long navigation path through categories and sub-categories pages. No need to go to main or side menus, just search right from product category pages.
ENHANCED ADVANCED SEARCH
The app is a blessing for BigCommerce e-portals with the large product catalog. Layered navigation modules used to offer a dropdown selection method to run a quick search. You can add more product-specific attributes in the dropdown menu and enhance the advanced search experience.
SPEED UP PART/PRODUCT FINDING
Various product attributes like make, model, year, type, color, category, and size becomes search parameters in layered navigation. The targeted audience of your BigCommerce store used to accustomed to these parameters and easily find their desired products.